An innovative primary school building
An exemplar bioclimatic school that has solved a chronic housing problem for hundreds of students
The pioneer primary school is located in Menemeni in Thessaloniki and is developed on 3 levels. It is a modern school whose design is based on the principles of bioclimatic architecture. The use of high energy efficient building materials and construction techniques, the exploitation of natural energy resources and the creation of modern classrooms and practical laboratories were the key components of the architectural design and construction of the building.
It includes not only the rooms anyone would expect in a conventional school but also 4 laboratories, a library with a reading area and a 180 persons capacity auditorium with a stage. The construction of this energy-efficient and environmentally friendly school complies with all required safety standards and meets all social needs of these young modern children. It is planned, designed and constructed down to the smallest detail and due to its proximity to the railway lines, a child's toy train was placed in the school yard.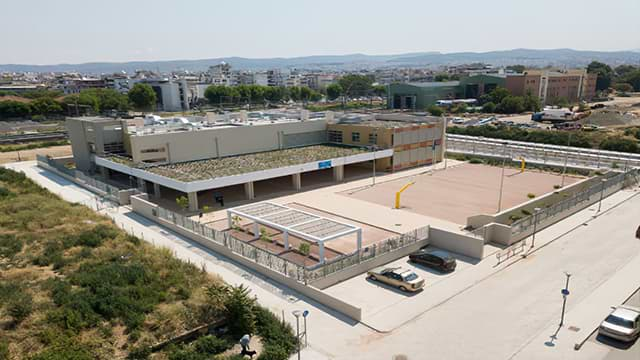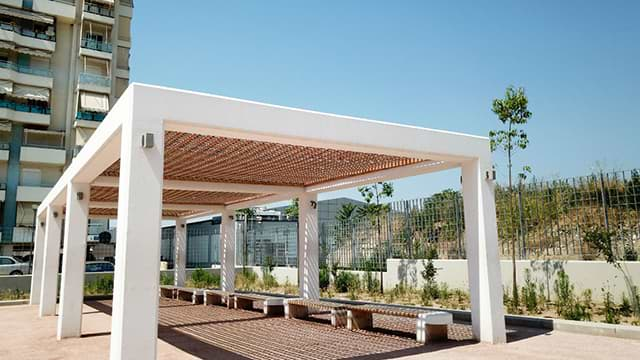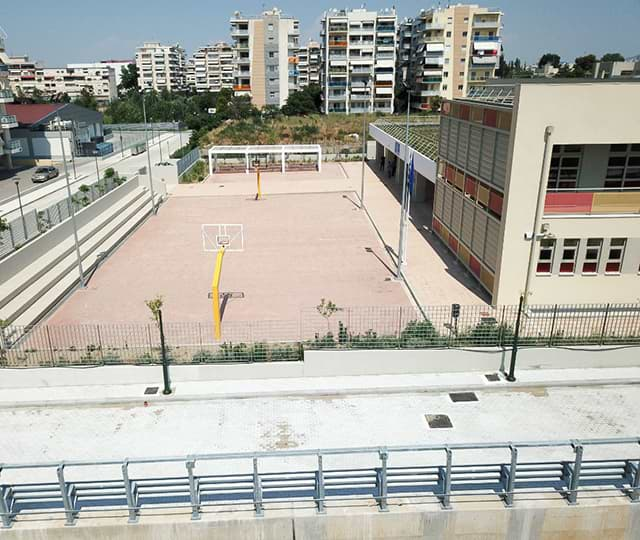 The construction of this smart, bioclimatic school has created a safe, healthy and enjoyable learning environment that provides high quality education to young students in a fast developing area of Thessaloniki.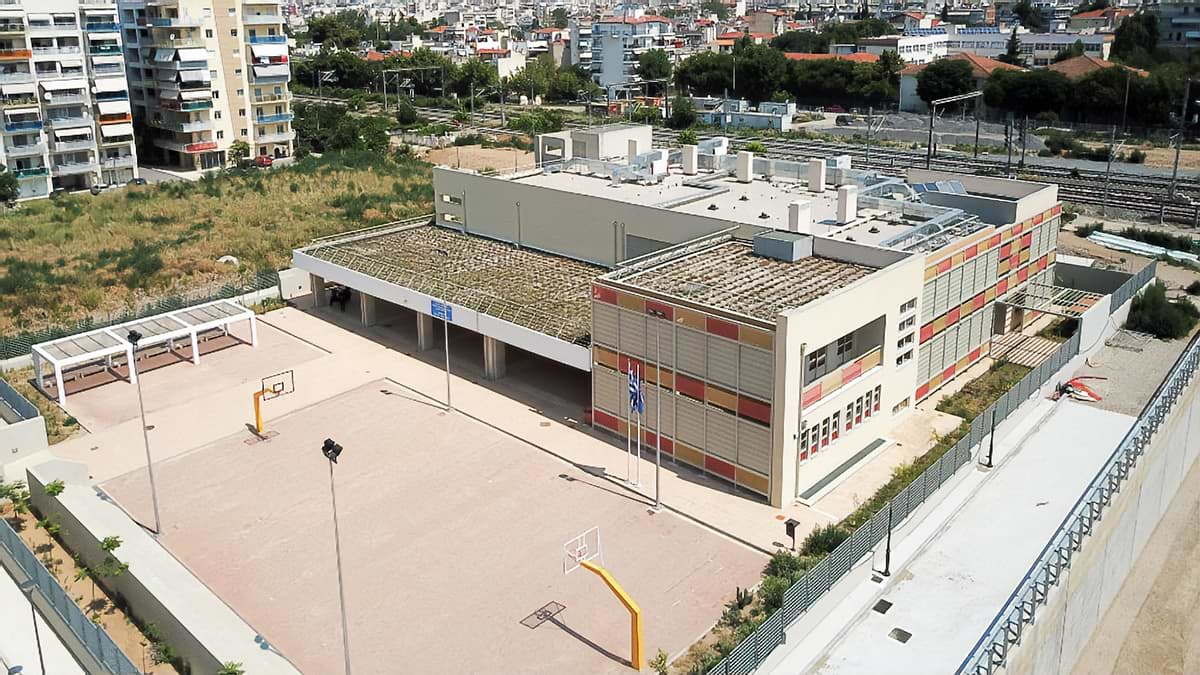 It includes:
6 classrooms
4 administration offices
4 laboratories
All-day school room with dining area, kitchen and utility areas
Library with reading area
Multi-purpose room for 180 people with a stage and necessary auxiliary areas
Indoor schoolyard
WCs
Patio
Cafeteria
School guard room
Auxiliary & mechanical rooms
Storerooms
Basketball Court
Parking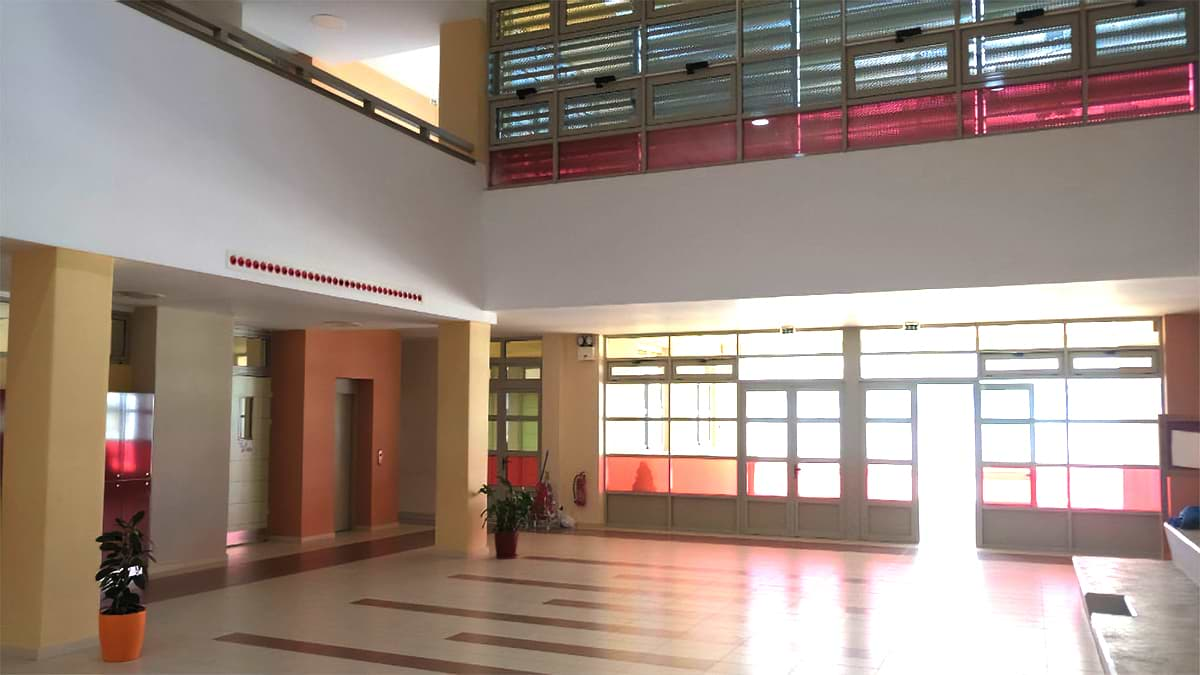 budget

2.113.128€

construction category

School

plot of land/construction 3.751,43m2 / 2.471m2
year of construction

2017

location

Menemeni, Thessaloniki

customer

Municipality of Ambelokipoi-Menemeni

architecture study

KTYP S.A.

services

Management, Development
Construction Quality Characteristics
The school was constructed in accordance with the very specific and strict specifications of the architectural plan and all relevant inspections were carried out by the accredited body that approved the high quality construction. Appropriate building materials have been selected, modern construction techniques and innovative technologies have been applied, making a significant contribution not only to the reduction of energy consumption and to a more cost effective management of the school finances but also to a more functionally successful rooms throughout the building. The main materials used are high quality marble, durable oak wood and colored, high strength granite tiles.
Energy Efficiency

All rooms are south-east oriented, taking full advantage of the sunlight during the winter months and the shade during the summer. The building is ventilated in a natural and efficient way through architectural ventilation chimneys, thus saving additional energy. Electrically controlled window blinds, adjust to the sun's position and the lights automatically switch on/off with presence sensors. In addition, part of the lighting of the building is achieved by solar light tubes that not only reduce the school's environmental footprint but channelise natural sunlight to create a healthier school environment.

Green Roof

The building has a green roof, planted with specific Mediterranean drought-tolerant plants. Its demanding construction includes proper waterproofing, special insulations, specific root barriers and an excellent water drainage system. Also, a specific moisture-retention layer has been placed that stores moisture and helps plants to grow. The watering is done automatically, with the help of accumulated rainwater collected for this purpose. The green roof, in addition to being a valuable source of oxygen in an urban environment, contributes significantly to the better and more efficient thermal behavior of the building, saving energy, while, at the same time, improving the sound insulation of the building.

KNX Technology

The school has KNX technology installed, an automated central management system that controls all lighting, heating, ventilation, air conditioning, etc., creating a school environment not only more enjoyable and comfortable but at the same time safer for students. Also, the implementation of such modern automation technology enhances energy saving, achieves practicality and contributes to a more reliable and economical school management.
Contact us for a free initial consultation